So SPA So Good – So SPA Bangkok, Thailand
Like many others who go to Bangkok for a short getaway, there are a few tasks that we must accomplish. Eat the best Thai food, get the best bargains, and more importantly, have a great massage. For me, ordinary massage is not acceptable. I need to get pampered in a luxurious spa that pays attention to the overall spa experience. And I'm so glad that I've found another great spa for my sacred me time.
The reception area at So Spa, Bangkok
I generally avoid those spas that are located far away from the BTS or MRT station. This is because the Bangkok traffic could derail your journey to the spa and destroy what was meant to be an enjoyable time. So Spa is located within the trendy Sofitel So Bangkok Hotel at North Sathorn Road and it is within walking distance from the Lumpini MRT subway station. Hence, you don't have to waste precious time getting stuck in the madness of Bangkok traffic and worrying whether you would miss your spa appointment.
When you step into So Spa, you have the feeling of entering a very stylish urban forest. Unlike most other spas, the So Spa reception area is decorated with lots of wood panelling and you feel like you're in a mystical forest.
The reception area at So Spa, Bangkok
Like all high-end spas, I was asked to fill in a health questionnaire before my treatment. I love my first treatment so much during a previous trip that I returned to So Spa again when I was back in Bangkok for a work trip in January. Out of the two treatments, it was my second treatment that left the deepest impression.
The Spacious Couple Treatment Room
First, I took advantage of So Spa's monthly promotion. The 2-hour massage was at a steal of 4,500THB nett (originally cost 6,350THB before tax). The entire treatment consists of a body scrub, cream wrap and massage. Since my appointment clashed with the hotel's monthly pool party, the spa manager gave me another 50% discount off the promotion price to compensate for the noise and disturbance during the treatment. I ended up paying 2,250THB (less than SG$100) for a luxurious 2-hour treatment. If that wasn't a great deal, I don't know what is.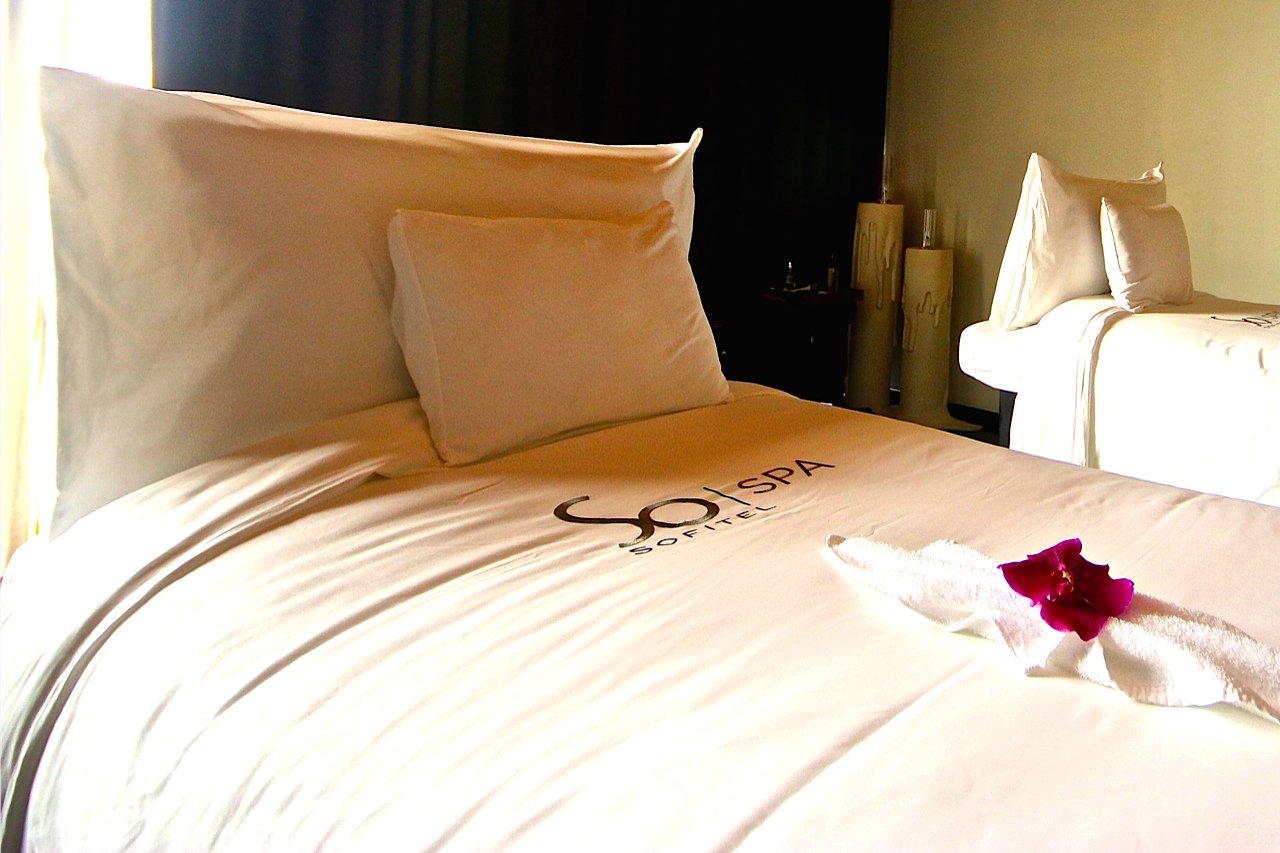 The super comfy massage beds
The treatment room is a sanctuary of its own. When I was there on the first occasion, I got a couple treatment room all by myself. It's so huge and luxurious. There is a dressing room with the toilet just adjacent to it. The shower area is pretty spacious and there is a huge bathtub at the corner of the room. The massage beds are so comfy that they will put you to sleep even before the treatment starts. On the subsequent visit, I got a single room but the space was no less generous and it is furnished with the same facilities in it.
The dressing area within the treatment room
On the second occasion, I had the 30-minute Beldi Black Soap Scrub, followed by another 30 minutes of Rassoul Cream Wrap before finishing the treatment with a 60-minute Moroccan Massage.
The Beldi Black Soap Scrub is a body purification process inherited from the traditional Hammam ritual. Similar to the Turkish Hamman, my therapist, TK, first used the Moroccan Beldi black soap to work up a layer of lather before scrubbing my body with a Kassa mitt. Next, he applied a generous layer of the Moroccan Rassoul cream over my scrubbed body. I've never done a wrap previously but this Rassoul Cream Wrap felt so good especially when the detoxifying clay touches your body. I could really feel the difference to my skin after 30 minutes of the cream wrap. It felt extremely smooth and silky after I washed off the clay in the shower. If you love having baby-soft skin, you mustn't miss these two highly recommended treatments.
The area in the single treatment room is equally generous
But that was only the prelude to what was to follow next – 60 minutes of pure bliss. The Moroccan Massage is a gentle massage that uses a delicately perfumed warm Argan oil to relax the body. And it's great for those who prefer gentle strokes and mid pressured massages.
Love the interesting refreshments - Chocolate shaped like mushrooms
After the massage, the spa offers some decadent chocolates and aromatic tea as refreshments. I have to say that I didn't expect the entire treatment to be so enjoyable. Of course, I must thank my skilful therapist who released all the pressure in my body. I was on cloud nine and couldn't wait to return for my third massage appointment soon.
So SPA at Sofitel So Bangkok
2 North Sathorn Road
Silom, Bangrak
Bangkok, 10500
Thailand
Tel: (66) 2624 0000
www.sofitel-so-bangkok.com/en/so-spa.html