Arrive as guests and leave as friends – Uma by COMO, Punakha, Bhutan
When I arrived at the Uma by COMO at Punakha, I was overwhelmed by the astonishing scenery. The resort is perched strategically on a hillside and overlooks the gorgeous Punakha Valley. Although the building blends in nicely with its surrounding, its beautiful warm pumpkin orange exterior stood out in a sea of lush greenery. One can't help but to be overwhelmed by the breathtaking view Uma by COMO Punakha has to offer. Morbid as it may sound, I was telling myself this could be my final resting place.
Welcome to Uma by COMO, Punakha
The Uma by COMO Punakha is an intimate resort with just eight deluxe rooms and two stand-alone villas. This resort is ideal when you just want some peaceful moments. Dawa, one of the hotel's senior staff, was already at the resort's entrance to welcome my partner and I when my driver drove up to the driveway. I'm impressed with how my guide coordinated with the hotel staff and ensured that the hotel staff was always ready to welcome. I guess that's part of a bespoke travelling experience.
The beautiful warm pumpkin orange exterior of Uma Punakha stood out in a sea of lush greenery
We arrived at the main building after passing a small courtyard. Even though Dawa invited me to sit and enjoy the welcome drink, I couldn't help to walk outside to the balcony to admire the spectacular view. I was feeling excited yet at peace.
The beautiful Uma by COMO Punakha surrounded a sea of greenery
Love the cosy lounge in the main building
the outdoor area just outside of the main building
People say that good things come in small packages but at Uma Punakha, they kept surprising us. When we were showed our corner room, my jaw literally dropped. As our room is situated on higher grounds, we have this unobstructed view of the magnificent Himalaya mountains and a river bend in the Punakha Valley. Imagine waking up to this awe-inspiring backdrop every morning… I feel like I'm in heaven already.
The breathtaking view of the Punakha Valley
The room exudes a calming ambience with its pine wood finishing. The King sized bed is extra comfy but it is the L-shaped lounge that takes the cake. Personally, that's the best place in the room to soak up the spectacular views. And when the night falls, you can either stare aimlessly at the thousands of twinkling stars or read a book. After a few days of no telly, I'm kind of glad to have cable TV back in the room. However, I would rather spend my time doing something more enjoyable than watching telly. And of course, who can forget the luxurious COMO Shambhala toiletries. The relaxing aroma of unique blend of essential oils in these gorgeous toiletries will immediately put one into a blissful state. And guess what, the room is so beautiful that I spent the next hour taking photos and every possible angle of this room.
the gorgeous room at Uma by COMO, Punakha
the spacious bathroom in our corner room
After all the clicking, it was time for a relaxing massage at the COMO Shambhala Retreat. There are only two treatment rooms in this cosy spa. One is a double room for couples and the other has a single bed but featuring a traditional Bhutanese hot stone bath. I had the luxurious COMO Shambhala Massage, a massage of medium pressure that helps to relax a tired body.
the luxurious COMO Shambhala Retreat
My diet plan was thrown out and tramped by the cows in Phobjikha Valley. But at Uma Punakha, I suspect that the chef has a hidden agenda of feeding his guests so well that all of them fall into a culinary comatose. Our first meal at the intimate resort is dinner. The dinner was so outrageously good that it totally blew us away. The Waygu beef short rib with sweet onion soubise and salsa Verde was so tender and juicy. Every bite of the waygu was enough to send me to a gastronomic orgasm.
Waygu beef short rib with sweet onion soubise and salsa Verde
Then I found out from the affable F&B manager, Roy Todemann, that the kitchen is helmed by Chef Arsa, an Indonesian chef whose culinary experience has brought him to many parts of the world and into the households of many royal families. Having Chef Arsa around is like having your personal chef travelling with you. Although there are daily set menus, Roy always offered us the opportunity to challenge Chef Arsa's culinary skills (in a fun and non-intimidating way). Roy just enjoyed teased Chef Arsa in front of my partner and I, and making us coming up with dishes that left Chef Arsa cracking his head of where to get the ingredients for these dishes. For Chef Arsa, cooking the dish is not a challenge but the tough part is getting the ingredients especially since all the choiced ingredients have to be imported overseas.
Nasi Lemak specially prepared by Chef Arsa
Chef Arsa was so determined to make our stay at Uma Punakha a memorable one that he never failed to surprise us with his creations. One morning we had Nasi Lemak, a serving of aromatic coconut rice with fried fish, tender chicken, peanuts and lots of sambal chilli. And there's one night, he cooked up a remarkable  and delectable Indonesian spread of sambal prawns, fish otah and satays just for us. I suspect that Chef Arsa's tasty treats are the culprits to my 2-kg weight gain after the Bhutan trip.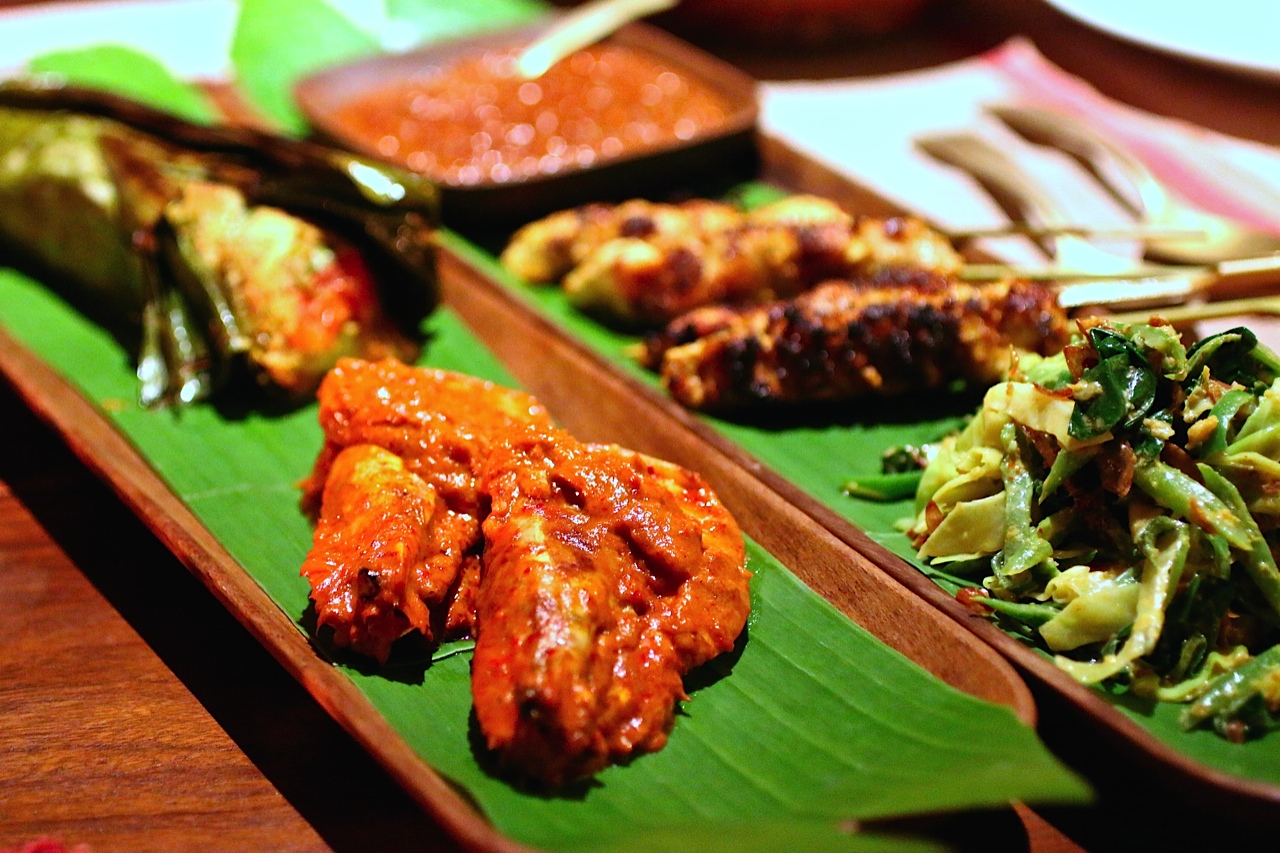 a remarkable and delectable Indonesian spread
And who can forget Mr Roy Todemann, the F&B manager and operations guy who ensures everything is ran in tiptop condition and his colleagues render top notched service to all the guests. Roy is always around in the resort to ensure our needs are satisfied and expectations are met. But it was his charming personality that makes our stay so enjoyable and memorable. He would share stories with us and crack the funniest jokes. We just enjoyed having him around.
The lovely bunch of staff at Uma Punakha - Chef Arsa (top left corner), Roy (bottom centre) and Dawa (top right corner).
The experience at Uma by COMO, Punakha, was simply unforgettable, and the hospitable staff played an important role. In Roy's own words, they aim to have us "arrive as guests and leave as friends." And truly, they have fulfilled their promise.
Uma by COMO, Punakha, Bhutan
Botokha Kabesa Punakha
Kingdom of Bhutan
Tel: +975 8 279999
www.comohotels.com/umapunakha